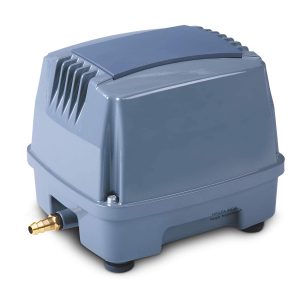 To buy this pump or for Free Consultation please call @ 9784542327
Click To Buy: Hailea HAP 120 Hiblow Air Pump 120L/M 90W


Product description
Hailea HAP-120 Hi-Blow Air Pump is an advanced air-compressing system, with sound damping and multilevel muffler for extremely low in noise level.

Technical Data
Power :- 125 W
Common Pressure :- 0.018 Mpa
Max Pressure :- >0.038 Mpa
Output :- 120 L/min
Noise: 45 dB
Weight: 9.5 kg
To buy this pump or for Free Consultation please call @ 9784542327
=======================================================
Hailea HAP 100 Hi Blow Air Pump 100L/M 80W


Technical Data
Power :- 105 W
Common Pressure :- 0.015 Mpa
Max Pressure :- >0.038 Mpa
Output :- 100 L/min
Noise: 45 dB
Weight: 8.5 kg
=======================================================
Click to Buy: Hailea HAP 80 Hiblow Air Pump 80L/M 60W


Technical Data
Power :- 85 W
Common Pressure :- 0.012 Mpa
Max Pressure :- >0.036 Mpa
Output :- 80 L/min
Noise: 40 dB
Weight: 7.0 kg
=======================================================
Why Air Blower For Fish Farming is needed?
Air blowers are one of the other required equipment. Without using fish farming pump in a Biofloc Fish Farming Tank we can not control toxic stuff like Ammonia and if fishes are kept in high density they will face low Oxygen issue. As fishes grow they require more Oxygen and to fulfill that requirement we need a good quality Fish Farming Pump so that we can meet with the required Oxygen level all the time.

If any given time Oxygen level goes down we may start facing mortality. And due to Low oxygen, fishes face stress and it affects their growth rate.

In any Biofloc tank there will be "Floc" too along with fishes and it will also require sufficient Oxygen to stay alive and play its role in controlling ammonia and converting sludge into single cell protein, which is consumed by fishes as food.
To buy this pump or for Free Consultation please call @ 9784542327
Air Pumps for Biofloc Fish Farming Tanks
1- Helps in maintaining Oxygen
2- Control ph
3- Helps in controlling ammonia
4- and Helps controlling somewhat temp too